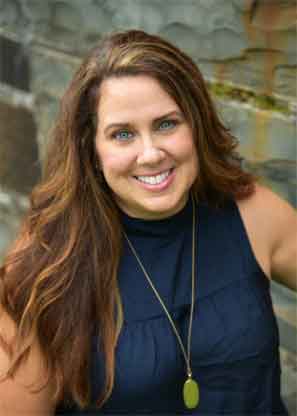 I never dreamed of being a writer. As a kid, I loved to doodle, write in my diary, and listen to music, but I wasn't the kid that lived with her head in a book—my head was in the clouds. I spent most of my time outside at the park, on my swing set, or playing with one of my Barbies in her pink corvette. In the stories I created to entertain myself, my Barbies had fascinating lives full of drama and adventure.
I eventually outgrew my Barbies and their make-believe lives, focusing instead on school, work, college, graduate school, family, and the business of growing up. But the heart always leads us back to the dreams and fears we tucked away, imagining those dreams and fears would disappear on their own.
At the age of 40, I thought I was having a nervous breakdown (or, at the very least, barreling into exhaustion). My cherished role of Mom to three active children was only one of the many spinning plates I was trying to keep perfectly balanced in the air. I meticulously managed the books for my husband's growing business, I privately tutored students in reading and math, and, when my youngest entered Kindergarten, I went back into the local educational system with our county schools. I provided educational testing, audited records for compliance with state and federal laws, and led intervention trainings within the individual schools across our county.
But I missed the direct interaction of teaching children how to read. So, the following year, I transitioned back into the classroom while still leading intervention trainings within our individual schools in the afternoons and managing my husband's books on the weekends. I assured myself that I could manage all of it and still find quality time with my family. I had the loving support of my husband—what else did I need?
A reality check!
Late one night, while I sat in the middle of a pile of papers spread out across my kitchen floor, The Queen of Organization realized she couldn't handle all of it, not at the level of perfection I had always required of myself before. I had to let something go, and it absolutely wouldn't be those precious moments with my family.
I eventually left the classroom. As my husband's business continued to grow, I left the school system, too.
I chose to put my family first.
But life outside of the education system felt incomplete. I missed that authentic piece of me. That's when I picked up a pen and started writing a love story about a widow learning to love again. One day, I bravely shared my writing with one of my closest friends and she liked it—really liked it. Her words were, "I want more." More led to a full manuscript, a personal reading goal of at least 30 books per year, and an undying passion to immerse myself in story and story writing mechanics through books, classes, podcasts, and writing groups.
I'm now the woman with her head in a book—and still in the clouds. And I absolutely can't wait until the day I can share the story of Alexandria, my novel's main character, with you. Her story is full of many of the dreams and fears in my very own heart.